Stepping into a newly renovated bathroom with new flooring, resurfaced cabinets, and porcelain fixtures brings infinite joy. The process of remodeling a small bathroom is tedious and takes time, effort, and money, but is worth it when completed.
Creating a small bathroom design is simple. Some small bathroom remodeling projects are easy enough to complete with a tool bag, a set of instructions, and necessary equipment and materials.
Homeowners often question, how long will a small bathroom remodel take. Along with the length of time, homeowners are often curious about the cost of small bathroom remodels.
Time
Many variations could alter the time it takes to remodel a small bathroom. The average time it takes to remodel a small bathroom is anywhere between three or four days to one month or more.
If you replace the drywall or are looking to expand your existing bathroom, it could take several months for your bathroom remodeling to be complete. It'll take about six weeks to a month to knock down your bathroom wall and add an expansion. The longest process to complete your bathroom makeover isn't the remodeling itself, it's the time it takes to get city permits and approvals.
Replacing your fixtures and plumping like the shower, sink, and bathtub could take a lot longer, but it's well worth it. When replacing things such as your bathroom fixtures, consider the time it takes to not only replace each item, but the time it takes to redo the plumbing and faucets too.
Small upgrades such as replacing hardware, adding towel hooks, trading in an old bathroom mirror for a new one, or adding new light fixtures and changing the lightbulbs only take a matter of minutes.
The time a small bathroom remodel takes mostly depends on two things.
The square footage of your primary bathroom.

The remodeling that's taking place or what you want to be replaced.
If you're taking on a full bathroom remodel, it may take longer than a month. If you're simply looking to replace the light fixtures, hardware, add some décor, and a fresh coat of paint, your small bathroom remodel will take anywhere from three or four days to one week. It all depends on what you're remodeling and if you are your contractor's only client.
If you choose to remodel your small bathroom yourself, it could take less than a month, depending on your experience.
If you want to just touch up the paint on the walls, it will take about a day, without breaks. Also, take into consideration the amount of time it'll take for the walls to completely dry. If you want to paint the walls, and ceiling, and redo the trim in your small bathroom, it could take up to 72 hours, drying time included.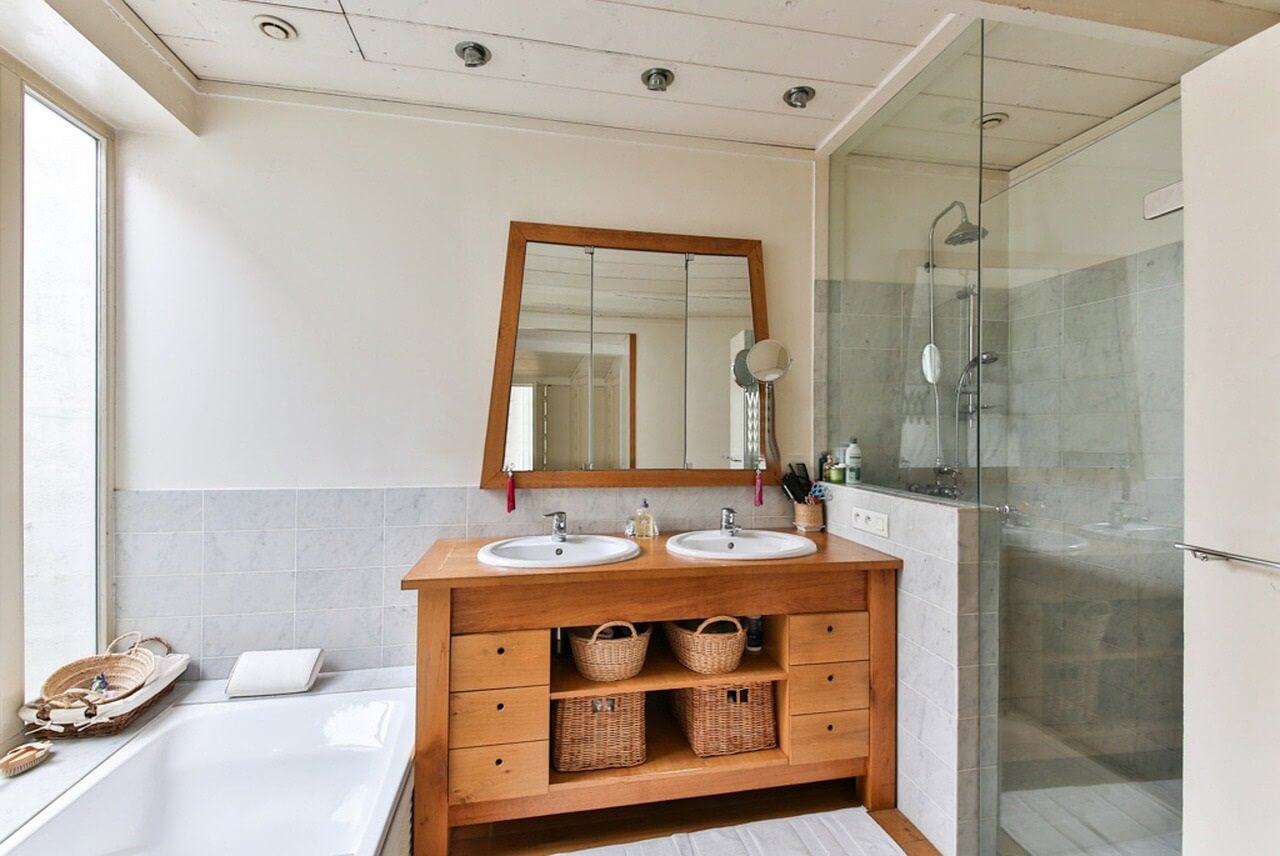 Cost
The national average for a small bathroom remodel costs over $10,000. According to 2023 data from a home-improvement site, it costs $70 to $250 per square foot.
The remodel costs of your small bathroom remodel also depend on the materials used, what you replace or renovate, the extras you add, and labor costs, if you choose to hire a professional. Here is a breakdown of the cost of remodeling a small bathroom.
Bathroom Fixtures
The average remodel cost to replace a bathtub is anywhere from $1,400 to $11,000. The national average is around $5,700, which includes plumbing hookups and installation.
The cost to replace a bathtub and shower combo ranges from $2,000 to $10,000. The cost includes labor for removal and installation.
Shower
Replacing a shower head can be inexpensive if you're simply swapping your old shower head for a newer, more luxurious one. The average cost for a new showerhead is anywhere from $50 to $1,000. Installation costs anywhere from $50 to $100 if you choose to hire a professional.
Some homeowners opt for shower heads with features that amplify relaxation. Different shower systems and body spray options you can choose for your showerhead are,
Adjustable shower head with multiple spray options

Waterfall shower

Rainfall shower

Tub spout

Side spout

Pulsating massage features and different massage options

Body jets

Dual head spray
Consider replacing your shower curtain to enhance its appeal. Replacing your shower curtain is an easy, DIY bathroom renovation project you can tackle in less than a few hours.
Sink
The average remodel cost to replace a bathroom sink is anywhere from $300 to $1,200. This average does not include installation costs. The cost of this new fixture depends on the size and type you want to include in your bathroom makeover. With installation, a new bathroom sink will cost anywhere from $600 to $2,000.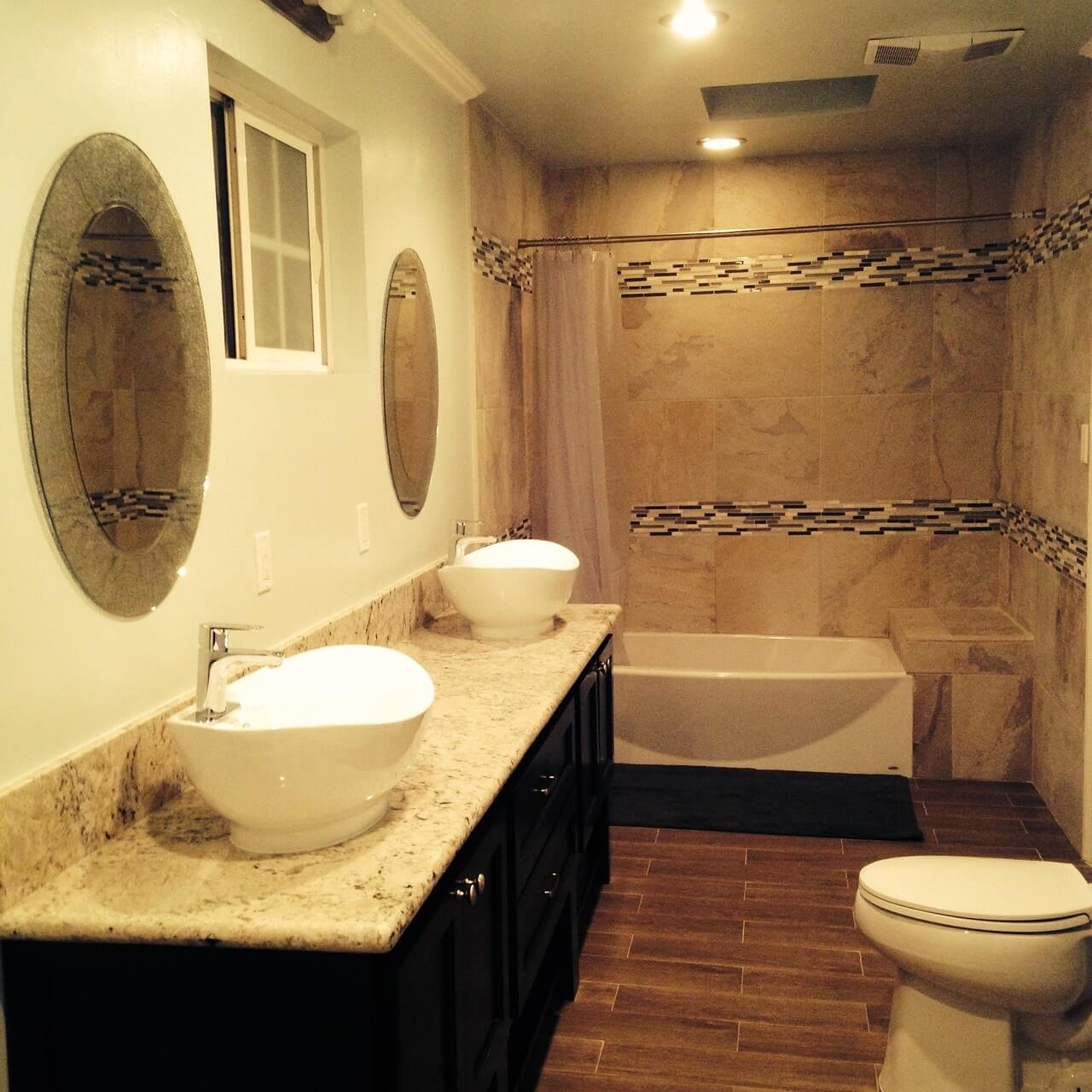 Types of Sinks
The cost to install a pedestal sink ranges anywhere from $300 to $1,100. A pedestal sink stands alone and doesn't require a countertop. A pedestal sink works great for a small bathroom, half bathroom, or powder room because it doesn't take up a lot of space.
Vessel sinks range from $250 to $2,000. These fixtures are bowl-shaped sink that sits inside the countertop below the bathroom mirror.
Because an undermount sink and a farm-house style sink require countertop replacements and new plumbing, it may get a little costly. Consider hiring a plumber for this type of small bathroom design. 
DIY Sink Remodel Projects
Some sink renovations are easy to complete with a few basic tools and a set of instructions. If you can replace your sink without major plumbing repairs, try installing it yourself. If you're simply replacing the faucets and have a clear set of instructions, attempt to remodel yourself. You can save hundreds of dollars installing your new bathroom sink without a plumber's help.
When installing a new bathroom sink, ensure you have all the equipment needed to complete the job. Most installations require connectors, fittings, mounting hardware, and any other necessary tools to finish the task. 
Before starting the installation, ensure you read the instructions and research any part of the task that seems confusing or unclear. If you're unsure just what new plumbing is needed, consult with a professional.
Ask for a quote from the reputable plumbers you're considering hiring. Keep in mind that financing a small bathroom makeover is an option. Also keep in mind that a professional plumber will charge for labor costs and will charge you for additional work, such as adding new faucets, countertops, and removal. Ensure you have a list of tasks you want done before selecting the best plumber for your project. This will give them a better idea of how much to charge and keep your bathroom remodeling project organized. 
The total cost for this project could range from $2,000 to $3,000. This does not include the cost of the sink. The cost for removal ranges anywhere from $25 to $150, depending on how complicated the task is.
Hiring A Plumber
If your sink remodels are a little more complicated, consider hiring a plumber. A plumber will ensure the job is done correctly and can tackle the more difficult small bathroom remodel projects. It's better to hire a professional, spend a little extra money, and have your bathroom makeover done correctly than have issues later after your small bathroom remodel is complete.
Countertops
On average, it costs about $2,500 to replace and install new countertops. The cost of replacing the countertops in your small bathroom also depends on the material you use, what kind of countertops you get, and how much a contractor charges to install them. Don't forget when purchasing new bathroom countertops, take an account of the installation costs, unless you plan on installing them yourself.
Bathroom vanities are becoming increasingly popular and can add value to your existing bathroom. The average cost to replace a bathroom vanity is anywhere from $400 to $2,000.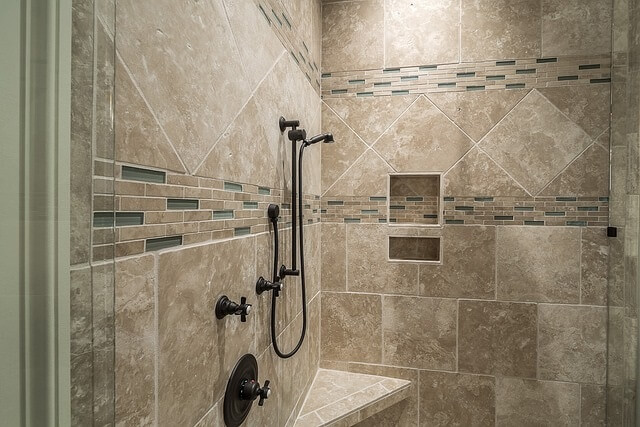 Cabinets
The average cost to replace the cabinets in your bathroom is anywhere between $500 to $5,000. A bathroom vanity costs around $400 to $4,000 for the vanity unit alone and around $100 to $1,000 for installation costs.
You can make a small room feel larger by adding cabinets to your bathroom or powder room. Adding cabinets to your small bathroom can create extra storage and maximize space. If you're unsure just what cabinets to install, ask for professional help from a plumber or home-improvement specialists.
Flooring
The average cost to replace the floor tile in small bathrooms ranges from $2.00 to $2.50 per square foot. A 120-square-foot bathroom will cost around $2,000 to replace the floor tile. This includes materials, like tile and labor costs.
To get a more accurate estimate of the cost of your new bathroom floor, consider the type of material you want to use and the cost of labor unless you choose to install the flooring yourself. Also take into consideration that some of the plumbing needs to be removed to properly install new flooring, such as the toilet and its fixtures.
Different Types of Flooring
Vinyl flooring

Laminate flooring

Porcelain tile

Ceramic tile

Natural stone

Engineered or faux wood
Paint
On average, it costs $25 for a gallon of paint. Each paint can is approximately one gallon. For a small bathroom, it'll take about 4 to 6 gallons of cans to paint your bathroom walls. For a powder room, it'll take about 2 to 4 gallons of paint. To paint all four walls, the ceiling, plus the trim, it'll cost anywhere from $3 to $6 per square foot.
Budget
If your budget is tight, but you want to remodel your small bathroom, you can still make major changes without breaking your budget. The important thing to remember is to create a budget and inform your contractor of your price range.
The best way to work within your budget is by creating a bathroom remodel list of must-haves and calculating the cost of each item. For example, figure out how much you want to spend and what you want remodeled or replaced.
By figuring out how much it'll cost to replace the tub, sink, and shower, add a vanity mirror, and lighten the walls with a fresh coat of paint, you'll be able to get an estimate of how much it'll cost to remodel your small bathroom.
If you hire a professional, getting an estimated time of completion, along with a quote will be helpful and help you stay within your budget.
Value
If you're remodeling your small bathroom, consider the value you're adding to your entire home. If your budget allows, remodel your bathroom in ways that add the most value.
A small bathroom remodel can increase your home's value by 25% to 50%. Some bathroom remodels can increase the value of your home by nearly 70%. The following is an itemized list of bathroom remodels and their value.
Vanity
Replacing the vanity in your small bathroom can make a drastic difference and add value to your property. According to real estate agents, the number one update buyers desire is a bathroom with double vanity.
Flooring
Besides upgrading your bathroom floor and replacing it with a better, more durable, more appealing material, some homeowners opt-in to installing heat mats before installing new floors. Radiant-heat flooring is an attractive feature that can add value to your home and save you money during colder months.
Fixtures
The number one fixture to replace in small bathrooms is the toilet. Upgrading to a low-flow toilet will save you money. Replacing your old toilet with a new, low-flow toilet will save you money because you conserve water each time you flush. 
To make your small bathroom more visually appealing and to conserve space, consider purchasing a toilet with a hidden tank. Having a toilet with a hidden tank gives small bathrooms a modern, minimalistic look. Also, consider an eco-friendly fixtures for small bathroom remodels.
Because bathtub jets are declining in popularity, consider creating a spa-like setting and adding enhancements while planning your shower remodel. Replacing the bathtub with a spa shower can have a major impact on the value of your home. You can also amplify the aesthetics by adding glass shower doors to your small bathroom.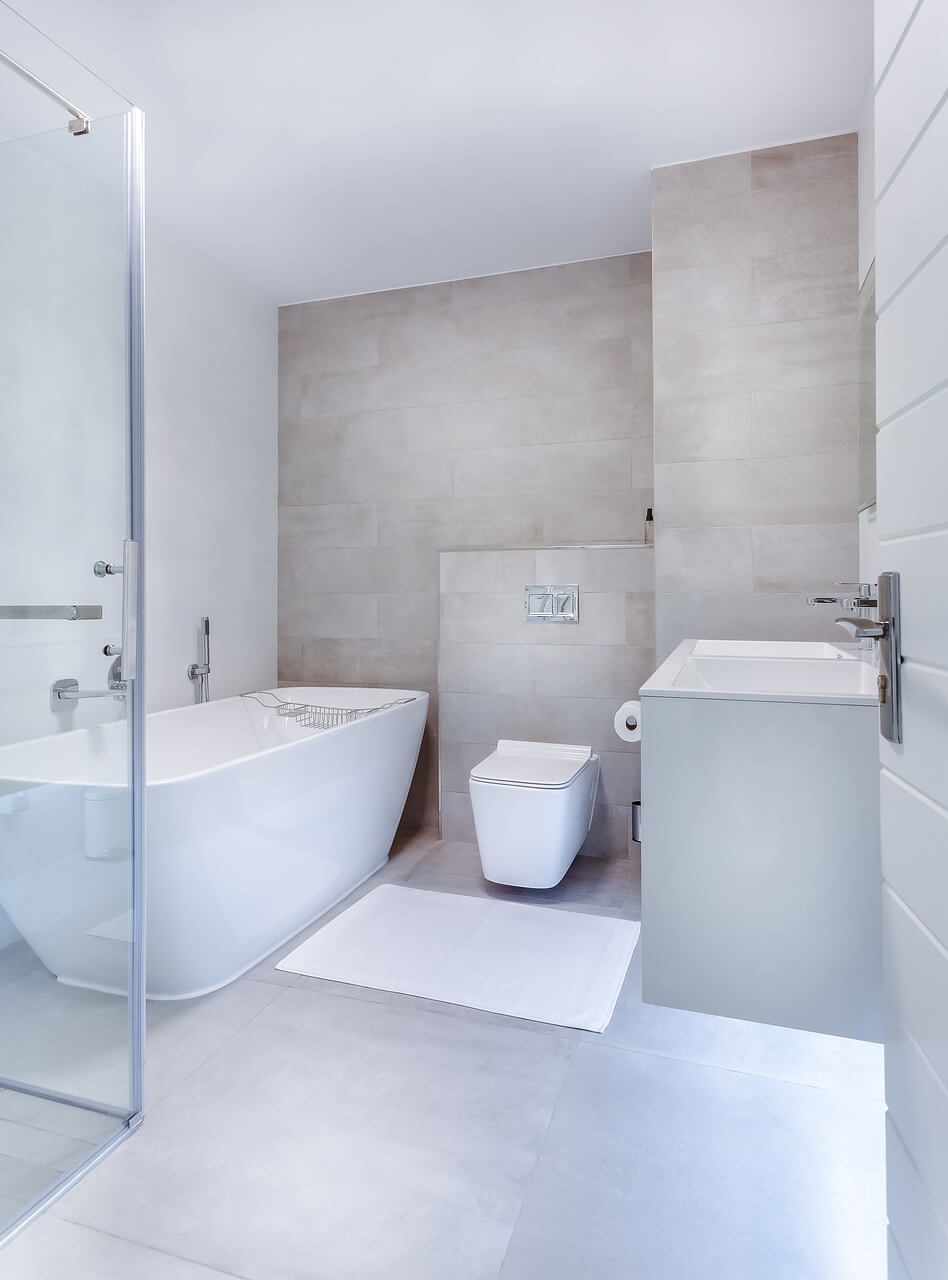 Ventilation
Improving the air quality in your home will not only benefit you and your family but can also increase the value of your home. Consider adding additions or upgrades that will reduce humidity and the potential for mold and mildew to grow.
Easy, DIY Small Bathroom Remodeling Ideas
There are numerous remodeling projects you can complete by yourself for your small bathroom. Some small bathroom ideas that will lessen your overall remodel costs and increase your home's value are,
Paint your walls, ceiling, and trim.

Install new light fixtures and lighting in your bathroom mirror.

Upgrade your ventilation by adding a bathroom fan or upgrading your current one. You can also enhance your bathroom ventilation by simply cleaning your vents.

Add new hardware to your bathroom cupboards, cabinets, and drawers.

Install towel bars, towel hooks, and other extras that create more space.

Replace your old shower curtain rod and hardware to boost the appeal of small bathrooms.

Enhance the appearance of your primary bathroom by adding a backsplash to your shower or bathroom walls with peel-and-stick tile.

Adding just a few pieces to enhance the aesthetics of your small bathroom can drastically change the appeal and increase the value of your home. Try painting your walls with neutral colors or bright colors. Replacing your old faucets with new ones can help too.

Adding new shelving will increase the value of your home and create more room in a tiny space. Consider purchasing drawer organizers to maximize the space in smaller bathrooms.

Replace your old mirror with a new one. If you upgrade your bathroom mirror with a mirror with built-in lighting, it'll not only increase the value of your home but give your bathroom an elegant, luxurious feel to it too.